Santa Fe Place
4250 Cerrillos Rd, Santa Fe, NM, 87507-4697, US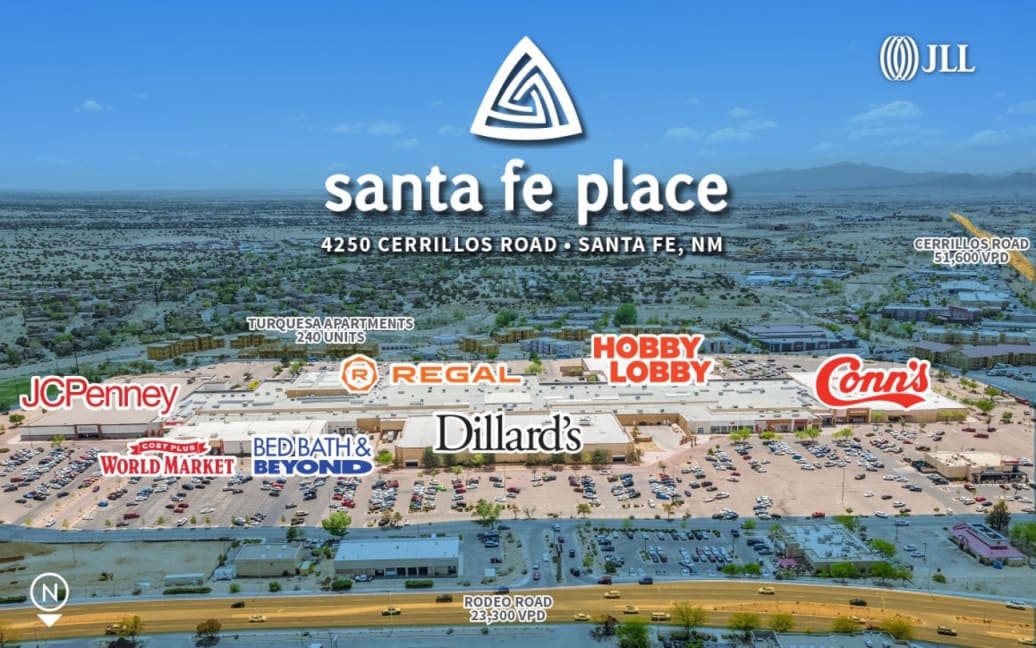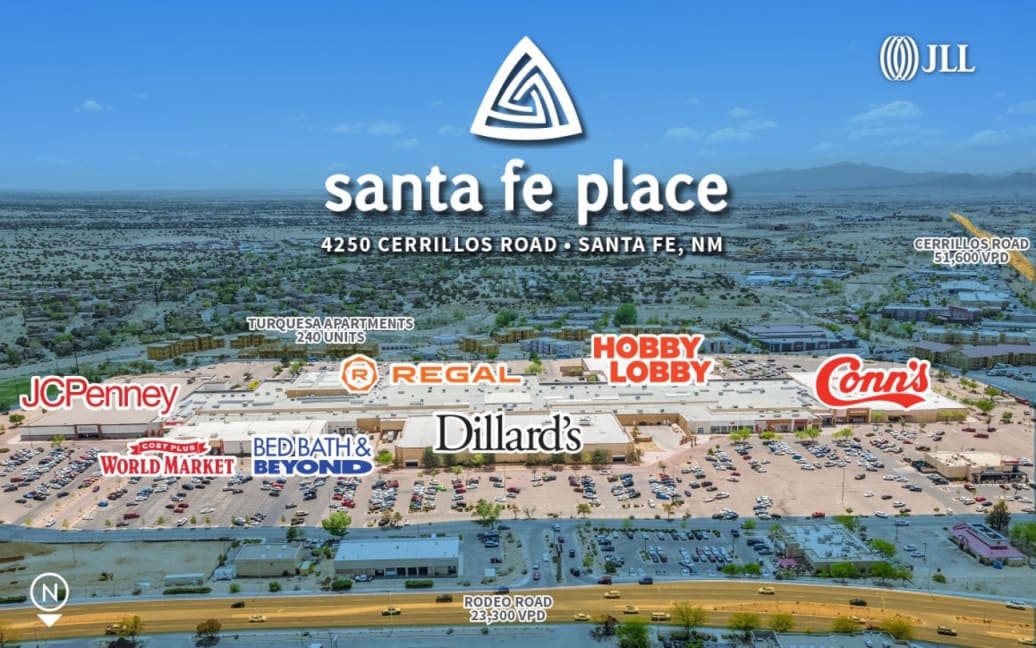 Asset description
JLL has been retained as exclusive advisor for the sale of Santa Fe Place (the "Property"), a 94% occupied, exceptionally well located, single level regional shopping center located in Santa Fe, New Mexico. Comprising approximately 583,462 square feet ("SF") of gross leasable area ("GLA"), Santa Fe Place offers an anchor lineup that is ideally suited for the trade area Comprised of Bed Bath & Beyond (25,289 SF), Cost Plus World Market (18,043 SF), Hobby Lobby (56,000 SF), Conn's (39,484 SF), Dillard's (74,475 SF) and JCPenney (83,392 SF). This offering is comprised of 427,951 SF of GLA, which excludes Dillard's and JCPenney both of which are separately owned.
The Property is situated on approximately 57.02 acres and prominently located at the intersection of Cerrillos Road and Rodeo Road. The proximity of I-25 and SR-599, two miles south and north of the property, respectively, provides convenient access throughout Santa Fe Place's 30+ mile trade area.
ASHLEY BENTLER SHAGETS
NM Broker of Record
Senior Transaction Manager
w: +1 469 626 2777
ashley.shagets@am.jll.com
Attributes
Building area Net
570,000 sf
Land area Net
57.02 acres (2,483,791 sf)
Investment highlights
IMPRESSIVE NATIONAL RETAILER DEMAND
The July 2022 opening of Conn's HomePlus extends a 5+ year trend of continued strong national retailer interest in Santa Fe Place, which has resulted in more than 20 prominent national retailers, totaling more than 240,000 SF of GLA, committing to Santa Fe Place over this time frame.
IMPRESSIVE SALES GROWTH
Reflective of the Property's dominant position within the marketplace, sales/SF has grown approximately $70/SF since year-end 2019 - reflecting an increase of nearly 24.0%.
IMMEDIATE UPSIDE POTENTIAL
Leveraging off continued national leasing trends at the Property, Santa Fe Place provides potential purchasers with the opportunity to realize significant near-term value creation via the lease up of 8 currently available, well-located suites totaling 34,121 SF. An additional 24 suites, comprising 91,303 SF, are currently occupied by short term tenants at an average gross rent of $4.59/SF – providing additional upside potential by converting these spaces to permanent tenancy.
STRONG OCCUPANCY
Santa Fe Place's overall occupancy is ~94.2% - further highlighting the Property's highly desirable location and competitive position in the trade area.
HEALTHY OCCUPANCY COSTS
Average inline health ratios are ~10.0% for the T12 period ending February 2022, at the low end of the acceptable occupancy cost range for a regional shopping center generating national small shop sales of $366/SF.
SIGNIFICANT TENANT AND CAPITAL IMPROVEMENTS
Since acquisition in 2014, ownership has invested more than $6MM on substantial capital improvements that have included Common Area enhancements, remodeling of mall entrances, pylon sign upgrades, HVAC replacements, roof repairs, soft seating, and parking lot Replacements/repairs – in conjunction with substantial landlord work associated with new tenancy. The result has dramatically transformed Santa Fe Place and helped to attract many of Its notable tenants.
SUBSTANTIAL NOI GROWTH
As reflected by the immensely successful rebranding of Santa Fe Place along with its dominant location and ability to attract national tenants, NOI at the Property has nearly tripled since 2017 – from a low of approximately $942K to more than $2.8MM in 2021. Santa Fe Place is poised to continue this trend with the recent capital improvements and notable national tenants in place.
DEVELOPMENT/DENSIFICATION POTENTIAL
Recent zoning approvals have been attained at the Property providing for the development of ~141 residential units. Additionally, interest has been increasing for a potential on-site hotel development.
EXCEPTIONAL LOCATION AND ACCESS
Situated at the intersection of Cerrillos Road (~51,600 VPD) and Rodeo Road (~23,300 VPD), Santa Fe Place benefits from a highly visible and easily accessible location. The Property serves as the anchor of the densely populated Cerrillos Road commercial corridor, which is home to numerous national retailers including Target, Best Buy, TJMaxx, Ross, as well as several hotels including Doubletree Santa Fe, La Quinta Inn, Comfort Suites and Hyatt Place – all within a short walking distance from the Property.
AFFLUENT SHOPPER BASE
Santa Fe Place benefits from a well-heeled trade area, with average household incomes within a 30-mile radius of $92,472 – a level nearly 30% higher than the state average.
LIMITED DIRECT COMPETITION
Santa Fe Place enjoys a strong competitive position as the only enclosed shopping center for 50+ miles, with the closest competing enclosed shopping center located approximately 55 miles driving distance to the southwest in Albuquerque, New Mexico.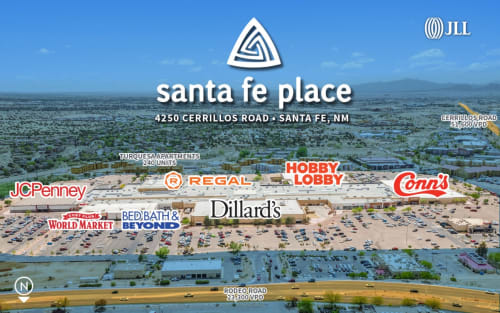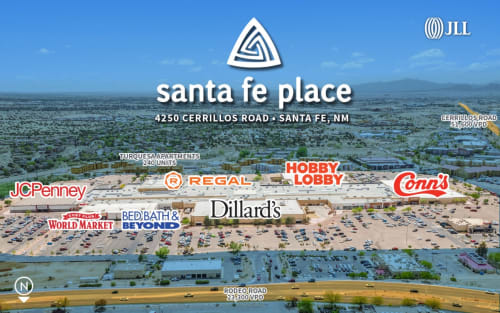 JLL can help you finance and manage your portfolio. E-Mail us today to see how we can help achieve your ambitions.