Superstition Springs Power Center
6201-6341 E Southern Ave, Mesa, AZ, 85206-3714, US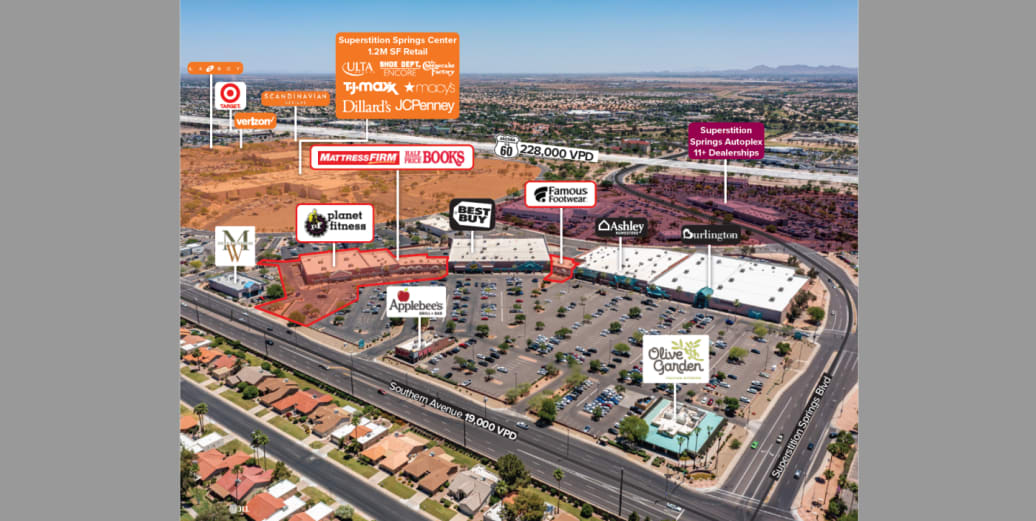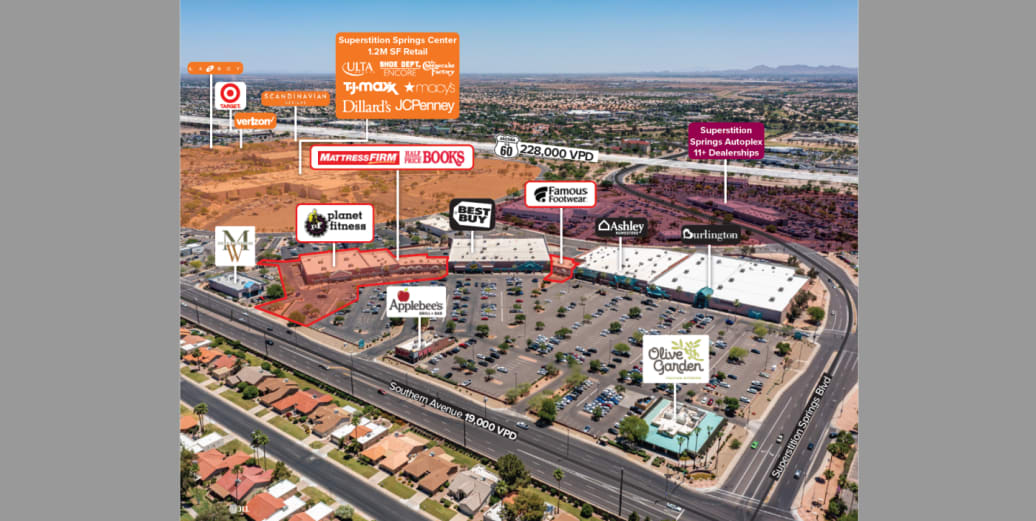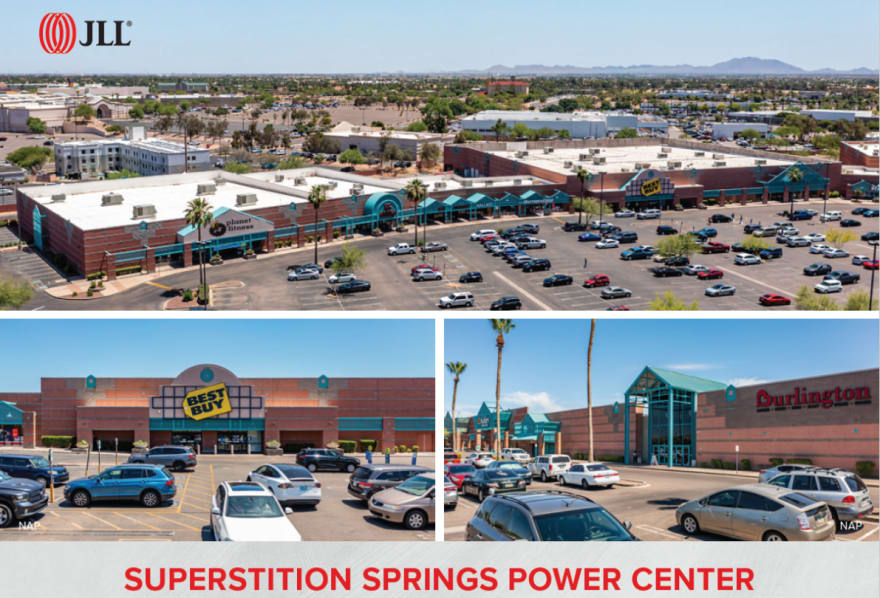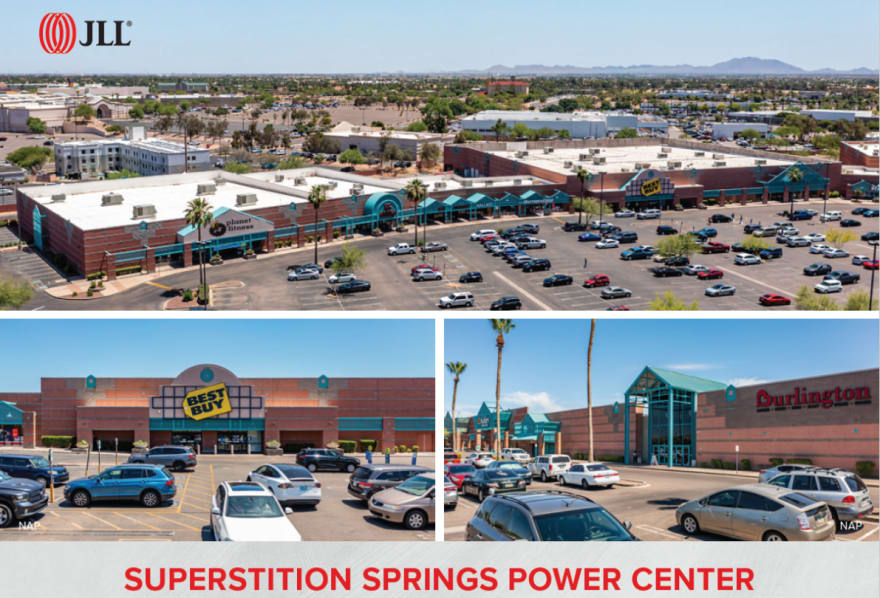 Asset description
Jones Lang LaSalle Americas, Inc. ("JLL") has been engaged as the exclusive advisor to extend to qualified investors the opportunity to acquire Superstition Springs Power Center ("Property") The 51,285 sq. ft. fitness anchored shopping center is 100% occupied and located at the southeast corner of Superstition Spring Blvd. and Power Rd. in Mesa, AZ. The Property is part of the larger Regional Power Center consisting of over 285,000 sq. ft. and is anchored by Planet Fitness (NYSE: PLNT), Best Buy (N.A.P.) and Burlington Coat Factory (N.A.P.). Adjacent to the Property is Superstition Springs Mall, a 1.2 million sq. ft. Regional Mall.
Superstition Springs Power Center presents the opportunity to acquire a daily needs shopping center at a significant discount to today's replacement costs.
Attributes
Building area Net
51,285 sf
Investment highlights
Fitness Anchor provides Daily Needs Foot Traffic:
Planet Fitness (NYSE: PLNT) recently signed a new, 10-Year lease until September 2032*. The fitness operator is one of the largest fitness club franchises in terms of membership count and number of locations. The daily needs user provides Superstition Springs Power Center with consistent foot traffic at all hours of the day. This location is operated by the largest franchisee in the chain (United PF Partners, LLC). They currently operate over 160 clubs across 14 different states, including 37 locations in Arizona.

**Assumes lease begins on Analysis Start Date of October 2022
Long-Term Security with Neighboring Anchors:
Walmart, Burlington, and Ashley Furniture all own their own parcels, providing investors' confidence these major retailers are invested into the trade area for the long-term. These anchors provide consistent foot traffic and consumer shopping patterns for years to come.
Regional Mall Proximity:
Superstition Springs Regional Mall has 1.2 million sq. ft. of retail and attracted over 4.5 million customers in the last year. The family-oriented Regional Mall caters to a diverse audience with a strong mix of national brands and departments stores. Superstition Springs Power Center is a direct beneficiary of this regional foot traffic. The Regional Power Center pulls customers from over an 85-square mile trade area (per Placer.ai).
Significant Discount to Replacement Cost:
Superstition Springs Power Center is being offered at a significant discount to today's replacement costs. 
Infill, High Traffic Location in a Dense Trade Area:
The Property is strategically located in the heart of the East Valley and serves major cities such as Mesa, Chandler, Gilbert, Tempe, Apache Junction, Queen Creek and San Tan Valley. The property also has excellent accessibility to the Superstition Freeway (over 228,000 VPD).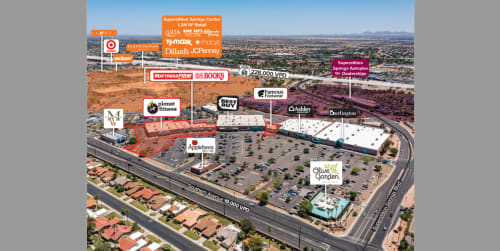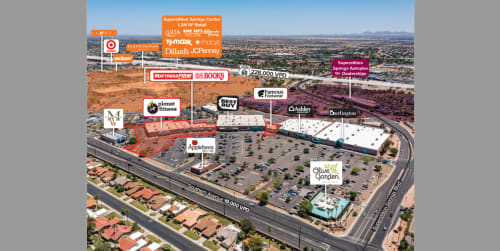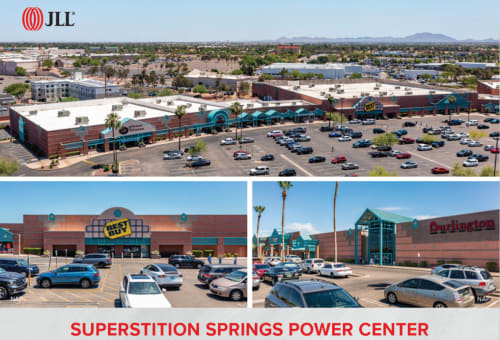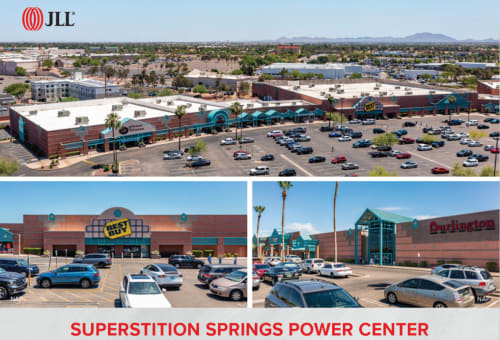 JLL can help you finance and manage your portfolio. E-Mail us today to see how we can help achieve your ambitions.